Indulge the neglected hands and feet with a manicure and pedicure. From basic nail care to total rehabilitation of dry, rough skin, let one of our experts transform your hands and feet into soft, younger looking ones. At Palazzo, sanitation is extremely important and we value the safety of our clients. After each manicure/pedicure, all equipment is thoroughly cleansed and disinfected with a DIN numbered hospital grade disinfectant for your safety. For optimum pedicure safety, we have opted to use pipe less stainless steel foot baths.  Please remember to bring a pair of flip flops to ensure proper drying of your pedicure. Please do not shave the same day as your pedicure. Also, please arrive 15 minutes prior to your scheduled appointment in order to complete a brief health questionnaire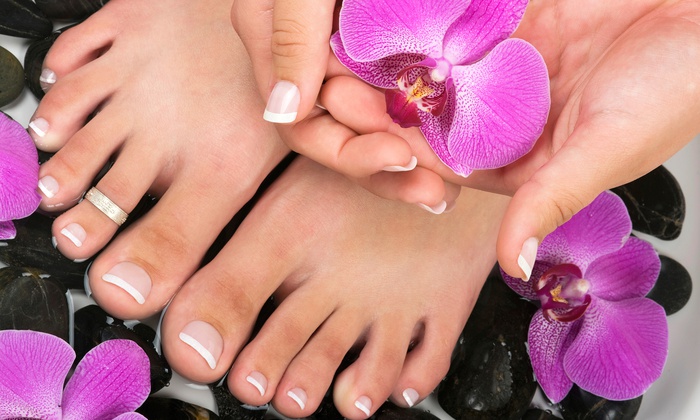 Manicures
| Manicure | |
| --- | --- |
| Express Manicure (soak / file / massage / polish) | $29 |
| Signature Manicure (soak / file / cuticle removal / massage / polish) | $35 |
| Aroma Manicure (same as signature manicure plus exfoliation & mask) | $46 |
| Hot Stone Manicure (same as signature signature manicure plus hot stone massage) | $46 |
| Add Gold polish-Double the wear! | $6 |
| Add Ecofin Treatment to any service-choose from one of our unique scents | $13 |
Pedicures
|  Pedicure | |
| --- | --- |
| Express Pedicure (soak / file / massage / polish) | $42 |
| Signature Pedicure (soak / file / cuticle & callus removal / massage / polish) | $56 |
| Aroma Pedicure (same as signature pedicure plus exfoliation and mask) | $67 |
| Hot Stone Pedicure (same as signature pedicure plus hot stone massage) | $67 |
| Add Gold polish-Double the wear! | $6 |
| Add Ecofin Treatment to any service-choose from one of our unique scents | $13 |
Nail Enhancements
 Enhancement
HANDS
Artistic Colour Gloss with manicure
$46
Artistic Colour Gloss manicure with Dip
$58
Artistic Colour Gloss without manicure
$29
Artistic Colour Gloss with dip without manicure
$40
Artistic Colour Gloss with dip and tips
$69
FEET
Artistic Colour Gloss with Pedicure
$67
Artistic Colour Gloss without Pedicure
$40

.

.

Repair
$6
Soak Off
$17
We have multi-level pricing according to achievement levels & years of experience.  Amounts listed for services are the starting price and are subject to change.
Become a MANICURE & PEDICURE Exclusive VIP Member!
Being a part of our exclusive membership entitles you to take advantage of exclusive savings and promotions such as a complimentary facial, complimentary eyebrow shaping, and more.  Ask our staff for more information.
You owe yourself this moment
Enjoy relaxation and beautification.